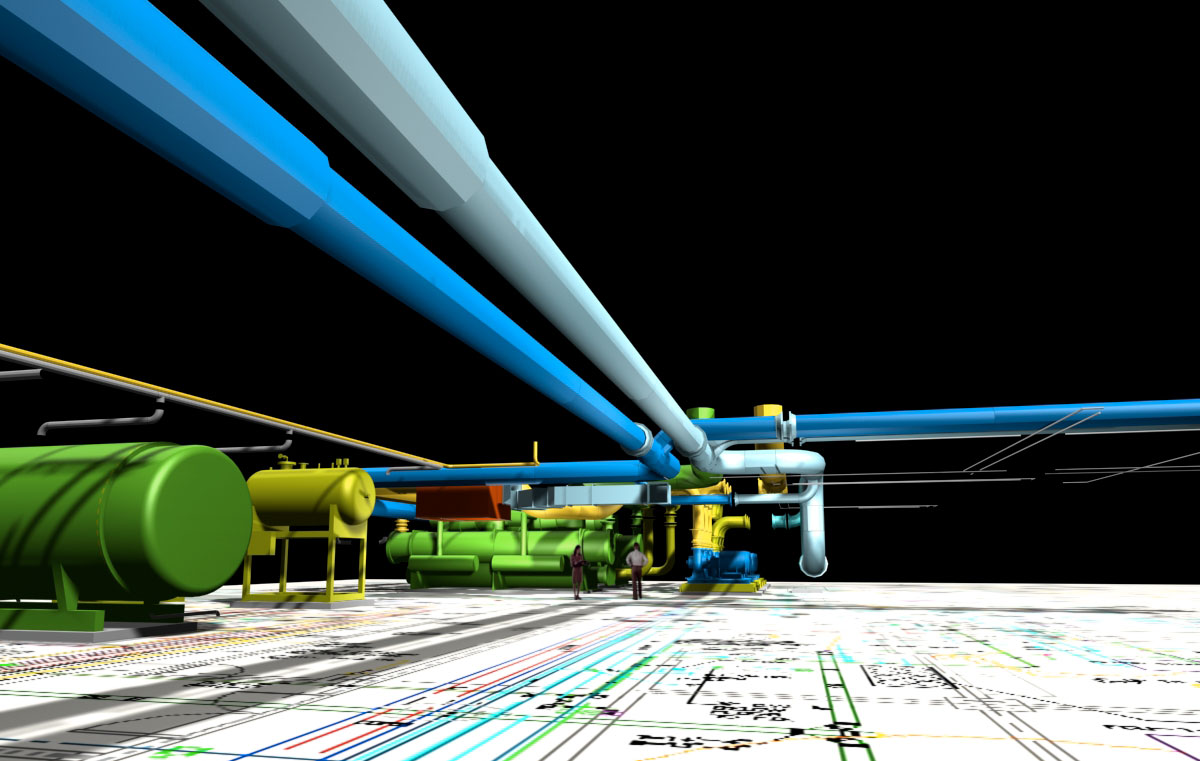 As CAD technology improved, BCH embraced the technological advances and found additional ways to improve coordination efforts and streamline the ductwork fabrication process. In the late 1990's, CAD developed software that was capable of downloading directly to shop computers which communicated directly to our coil line and plasma cutters. This advance removed a step in the fabrication process by eliminating the need for manual input into the shop computer. The new software provided a huge boost for shop fabrication but did little to improve the "collision prevention" process because the program was still utilizing 2-D and relied heavily on elevations for coordination.
In 2004, 3-D modeling became cutting edge techonolgy and BCH employed the use of CAD-Duct and CAD-Mech programs to harness their advanced communication capabilities with our computerized duct fabricator and prefabrication facility. Our 2-D CAD overlay system turned into a 3-D image that provided detailed collision reports. The program provides quick fixes at collision spots and automatically fills the transitions with ductwork when an offset is required.
CAD-Duct works seamlessly with our automated sheet metal shop and duct fabricator allowing us to produce over 3 million pounds of galvanized sheet metal ductwork per year. While keeping up with the latest CAD technologies, BCH has upgraded several pieces of ductwork equipment allowing straight ductwork to be fabricated in half the time and completely eliminating the need for manual input.
CAD-Mech enhances the way we prefabricate piping systems for chiller rooms/yards and plumbing systems for gang bathrooms on multi-story buildings. It enables fabrication of multiple parts and pieces for erection in the field and eliminates a tremendous amount of work and downtime.
The downside of the 3-D CAD program was that not all trades were embracing the new technology and the actual integration of multiple trades utilizing different software was close to impossible. BCH Mechanical has provided coordination services for many projects over the last 5 years; starting from scratch redrawing structural beams, plumbing piping systems, fire suppression mains, large electrical conduit and lighting systems located in acoustical and drywall ceilings for a complete, coordinated and "crash detected" set of CAD documents.
The construction industry, as a whole, is now moving quickly into 3-D CAD modeling and coordination drawings. Because of our commitment to innovation, BCH is way ahead of the learning curve. The latest advancement in software is Navisworks. Navisworks is part of the autodesk family and provides a platform for integrating all trades with different 3-D programs into one system that has its very own crash detection system. Now we can roll up most other 3D software packages from other trade contractors into one completely integrated product. These advances are true Building Information Modeling (BIM).